Click the image to enlarge
Savar, Lord of Pride, only agrees to breed the most skilled and powerful demons in the arts of combat and magic. His lieutenants are the Omens, pure manifestations of Pride, whose challenges cannot be refused by mortals.
This product includes only digital files for printing on a suitable 3D printer. You will not receive physical miniatures.
Includes one model.
We recommend a 50x50mm base.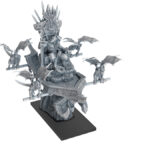 Throne of Overwhelming Splendour